It appears to me, that Space Coast Motorcycle Alliance, has done a pretty good job of preserving the once ABATE sponsored Annual Toy Run in Brevard County, Florida.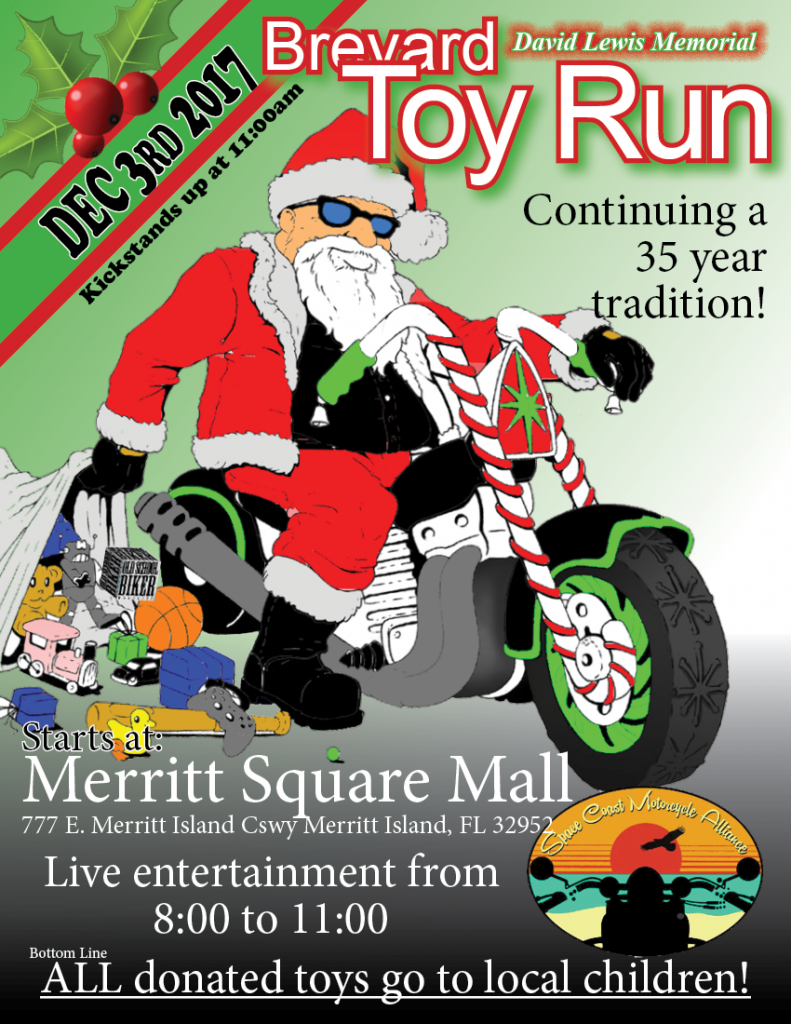 They tell me that the David Lewis Memorial Toy Run drew at least 3000 bikes, on a perfect, warm, sunny day, Dec. 4, 2016.
It formed up at the Merritt Square Mall, and because there was no police assisted, planned route, at departure time, you were on your own. However, most of the riders chose to motor south on Tropical Trail to Pineda, then over the causeway to U.S.#1, and on down to Space Coast Harley-Davidson near I. 95 in Palm Bay. Good run!!!
Lots of vendors, a car show, live bands, bike wash babes, and MORE, awaited the eager riders…PLUS, a Sexy Santa Contest!!
We met lots of old friends, and aside from getting pretty tired…had a real good time!!
All this began with a huge , free, breakfast, at H&D Roadhouse!! Thanks so much, Harry and Deb and your crew!!! Good way to start the loooong day!!!
    Now, let's backtrack to Saturday. Old School Biker Magazine held a custom bike show there on Saturday afternoon. We presented some of the nicest hand made trophies, as well as the "regular" ones, plus a beautiful riding jacket, to the winners of the various catagories.
We listened to Anja and Her Band, plus other live groups, checked out the new machines inside, as well as the gorgeous bike wash babes. Thanks to Space Coast HD, and everyone else who worked so hard to present this program…Rik and crew…you guys are fantastic!!!
Stay tuned for other SCMA events coming up…
Miserable George & ValGal…
George's Pics
Comments