When I got the scoot, it was a stock '98 1200 sportster S model and has had many changes since the day I got it.
I have always ridden this bike, so chopping was done little by little until a head on collision forced an awaited chopper.
Friends, family and my club brothers made the Paughco rigid frame appear immediately after the accident. Parts came from everywhere including the sissy bar from a buddy Jingles (RIP), who finally gave it up when seeing my mangled bike. A good and very talented friend @ Elizabeth Dibois hand painted the Frank Frazetta recreation on the gas tank.
My bike wouldn't be capable of years of miles, wheelies and burnouts if it wasn't for good friends, family, Scott and Sally at Sally's Bargain Barn, my club brothers. ML&R to anyone that's helped me keep riding.
HLFFHL
KP
To see more of Sasha, click here.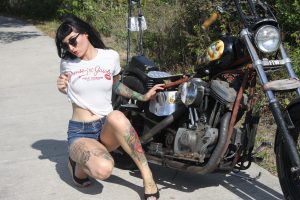 All our Issues will be Online soon. We are uploading as fast as we can…Please check back soon! Try the "View PDF Flipbook" to see them now.