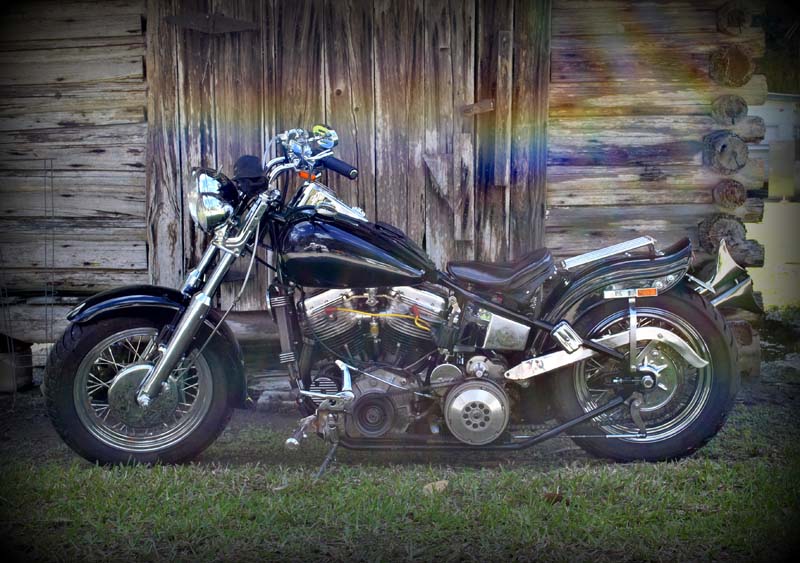 This PANHEAD has rocked me to my boots!  It's as old school as things get without time travel to 1957.
This bike is a daily rider. She's owned by a man whose life is an epic old school biker tale:  Flash.
Flash is always looking for the motorcycle that's priced right and ready for his personal touches or rebuild.  The Pan spoke to him from the start.  She was brought to Flash's attention while visiting a source who had a bike that had literally been destroyed in a fire, (a bike I plan to feature in the future). Flash asked about the Panhead and was given a figure. It wasn't in his plans at that time, and he kept to his original path: buying the burn bike.
Flash never forgot the rigid-framed pan.  She kept pulling at him.  Nagging him in the back of his mind.  After several years had rolled  by, the pan's owner had passed away and the remaining heir remembered Flash's passionate interest in the panhead.  The heir wanted the bike to go to an old school biker who could appreciate the girl for her old school chopper characteristics while honoring his brother's creation and memory.  It was the right time and everything fell into place for Flash and the Pan.
This PAN is definitely what this "OLD SCHOOL BIKER" admires in a motorcycle….
| | |
| --- | --- |
| SPECS: | |
| YEAR | 1957 |
| MAKE | HARLEY DAVIDSON |
| MODEL | FL |
| FRAME | STOCK HARDTAIL |
| ENGINE | PUNCHED OUT TO 80CI |
| BARRELS | S&S |
|  HEADS | S&S |
|  CAM | S&S |
|  DRIVE | 2" BDL BELT DRIVE |
| IGNITION | DYNA SINGLE FIRE, DUAL COIL IGN AMERICAN ELECTRONIC 12V ELECTRICAL CHARGING SYSTEM |
| STARTER | KICK-START/ELECTRIC START |
| CARB | S&S EARLY STYLE E SHORTY CARB |
| OIL PUMP | CRANE |
| OIL COOLER | JAGGS ADJUSTABLE TEMP. CONTROL |
| OIL FILTER | JAGGS RE-USEABLE FILTER |
| OIL BAG | HORSESHOE |
| FRONT END | WIDE GLIDE (2" UNDER) |
| TIRES | AVON |
| BRAKES | MECHANICAL BRAKE, FRONT AND REAR |
| WHEELS | STOCK CHROMED AND LACED 16" FRONT AND REAR |
| CLUTCH | HYDRAULIC ACTUATED |
| EXHAUST | PAUGHCO UPSWEEP FISHTAIL PIPES |
| SEAT | MUSTANG SOLO-SPRING SUSPENSION |
| TAIL LIGHT | CAT'S EYE STYLE |
All our Issues will be Online soon. We are uploading as fast as we can…Please check back soon! Try the "View PDF Flipbook" to see them now.